Satin Brass Door Knocker
Share this:
Satin Brass Door Knocker
A beautiful "Urn" style, satin brass door knocker.
The knocker in the photo is the CR 1771 Adam Door Knocker. The urn style of knocker is a vintage style and will suit most types of door, from Victorian and Edwardian, through to more contemporary styles.
The door knocker in the photo is shown in satin brass. This is a solid, traditionally cast brass door knocker, which is hand-finished to the smooth, satin finish seen in the photo. This finish is "gentler" than a polished brass finish and will suit both period and contemporary décor.
Satin brass id available both lacquered and unlacquered, depending on your needs.
To view the complete range of Door Knockers available, please click here…
Buy the items from this image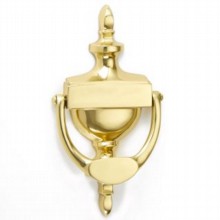 Brass, Chrome, Nickel and Bronze
Handcrafted in UK