Wrought Iron Door Furniture
Early ironmongery was generally handcrafted (forged) by blacksmiths using wrought iron. Doors were usually hung on large strap hinges and locked using a face-fixed rim lock and/or bolts. These hinges and locks were originally very plain, but became more ornate through the years.
Doors were traditionally opened and closed using latches but in later years door knobs and handles were also introduced. Antique black iron is now arguably the most common style of door furniture on period properties here in the UK.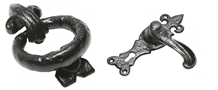 At British Ironmongery we sell antique wrought iron door furniture manufactured by Kirkpatrick, hand forged in their traditional English ironfoundry. These pieces can be used to either match original ironmongery on a refurbishment or renovation, or to add instant charm and character to a new build projector or more contemporary home.
Kirkpatrick's long tradition of manufacturing means that they have a style and authenticity which is lacking in the cheap imitation products available. Their workforce is skilled in the traditional methods of production, which have not changed in essence over the last 156 years. Although it is possible to find many similar products available both in the UK and worldwide, the essential difference is that Kirkpatrick's cast iron products are whiteheart malleable iron, which is particularly durable and well suited to the manufacture of architectural ironmongery.
Please see some examples of the handcrafted, British made black iron products we sell below: