Vintage Door Furniture
Vintage Door Furniture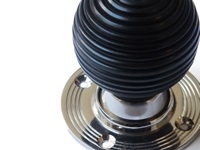 Here at British Ironmongery we sell a massive range of period and vintage window and door furniture; including door handles, door knobs, letter boxes and other vintage door furniture, with window fittings to match.
Available in a massive choice of styles and finishes, from polished brass to solid bronze and antique black iron, we have door and window furniture to suit virtually any style and period.
Whether you are trying to match a specific style or era on a restoration or refurbishment project, or wanting to add character to your new build or extension, choose from some of the highest quality ironmongery products on the market, lovingly hand-crafted by some of the leading architectural ironmongery manufacturers in the UK.
Please see some of the most popular reproduction ironmongery periods below:
Gothic Door Furniture – 1150-1550 – Unlike the previous generations of churches, which had semicircular arches like those of the Romans, Gothic churches were recognisable by their pointed arches and large pointed windows. The Victorians revived this style again in the mid-19th century, imitating the pointed arches of the medieval churches. The style began principally in churches and public buildings but by the 1860s it

influenced even domestic interiors. Typical architectural ironmongery to suit this style would be black wrought iron products.
Tudor and Period Door Furniture – 1485-1603 – From the late middle ages onwards most ironmongery would have been manufactured locally by a blacksmith. Items suitable for older period properties would be large hinges, thumb latches and door studs, handcrafted rustic materials such as wrought iron or Tudor bronze, using traditional methods.
Georgian Door Furniture – 1714-1837 - Georgian style embraces a century under the reign of three Georges and is often divided into the Palladian, early and late Georgian periods. Known for its generally rectangular, flat fronted buildings, with sash windows symmetrically spaced out, "Georgian Rope" edged ironmongery has become synonymous with this period. It has been said that the edges of these ironmongery products made light shine and reflect, in a period where light was by candle and costly, although it is not truly known whether these were actually fitted in abundance at the time! Certainly Georgian rope style door handles and knobs are very suitable when renovating Georgian period properties, in a finish such as polished brass. Sash window fittings such as sash lifts and sash handles are obviously also popular in buildings from this period, also available in Georgian rope designs.
Victorian Door Furniture – 1837-1901 - Popular items for this period are round and oval door knobs. These are available either plain or reeded and can be supplied in a variety of different finishes; although brass type finishes would be the most common such as polished brass, aged brass and antique brass. Rim locks (and therefore rim knobs) were also common during this period and therefore lend themselves to Victorian décor.
Arts and Crafts Door Furniture – 1885-1910 – Towards the end of the 19th Century a new attitude emerged amongst some designers and

architects towards buildings. They felt that industrial architecture was ugly and that they should be looking to how homes were built in the past. Tradesmen developed their craft skills over generations and an item's beauty came from the material itself and the craftsman's skill.
One of the presiding ideas was a respect and interest in the materials used. They wanted a return to high quality, handcrafted items as opposed to badly made, mass produced goods (an idea now echoed by us here at British Ironmongery…!).
Decorative antique black wrought iron products and wooden door knobs would be suitable types of items for Arts and Crafts style homes. Solid bronze door furniture would also be suitable for this style, due to the natural beauty in the bronze finish.
Edwardian Door Furniture – 1901-1910 – After the dark colours and clutter of the Victorian period the Edwardian period was a breath of fresh air! With pastel coloured walls and brighter homes in general, door furniture became slightly fancier, with round door knobs staying popular, but often with added designs. Door handles mounted on plates are also a suitable style for the Edwardian period. As with the Victorian period, a good choice of finish for Edwardian door furniture would be polished brass, aged brass, antique brass and distressed brass.
Art Deco Door Furniture – 1920-1935 – Art Deco is a style synonymous with luxurious cinemas and hotels built between the first and second world wars. Art Deco was not just for the elite however, as by the 1930s mass production meant that many could live "Art Deco" style. Recognisable by their rectangular design, for Art Deco door furniture we would recommend "shiny", highly polished finishes, such as polished nickel or polished chrome.

Contemporary and Modern Door Furniture – 1950s to Current – With the introduction of higher quality mortice style locks and latches, modern door furniture has to be suitable to work in conjunction with these. Brass "lever on plate" style door handles from the 1960s have generally given way to handles mounted on round or square roses, usually in contemporary finishes such as polished and satin chrome or nickel. Uncluttered styles such as "covered rose" door handles and knobs are becoming more popular, with screws hidden from view.